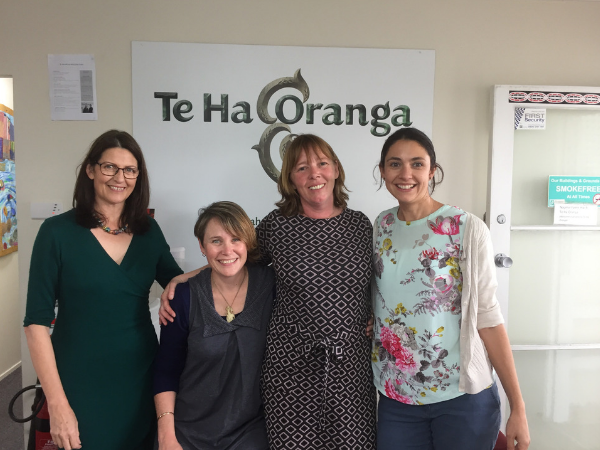 (l-r): Donna Tapurau, Te Ha Oranga; Dr Rachel Mackie, Kaipara Medical Centre; Sarah Lewis, Te Ha Oranga and Dr Kathryn Elcock from Kaipara Medical Centre at the successful cervical smear clinic held in October. 
The team behind a recent cervical smear clinic say working together to create a warm and supportive atmosphere was the reason why it was so successful.
32 enthusiastic women turned up for the free clinic held in collaboration with the Kaipara Medical Centre, Te Ha Oranga, and the Well Women and Family Trust.
Kaipara Medical Centre GP Dr Rachel Mackie says, "We were inspired by some high profile cervical smear campaigns on Facebook and wanted to do something to prevent deaths for our wahine due to cervical cancer."
Dr Mackie says a recent community wide survey on health needs found the local Maori health provider Te Ha Oranga was regarded favourably by local Maori and so, "it was a no-brainer to work together on this project to ensure we could reach as many people as possible, particularly Maori who we know have lower cervical screening rates in our practice."
Of the 27 women who had a smear, three had never had one before and 13 were of high priority being overdue by more than five years or having an abnormal history.
The free clinic ran for three hours at Te Ha Oranga with no appointment needed.
"Anecdotally we knew that getting to Kaipara Medical Centre for smears during the day was difficult for those working elsewhere, so we opted for an evening clinic," said Dr Mackie.
"The atmosphere was really fun, with women cheering their support for each other once they'd completed their smear."
Everyone who had a smear, received a $20 Countdown Voucher and went into the draw for a gift basket from Unichem Helensville.
It's hoped the clinic will run again three or four times next year.