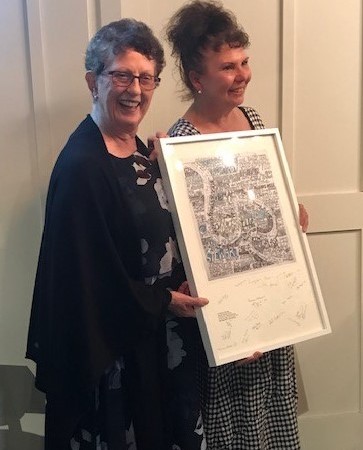 Practice Nurse manager Barbara McKenzie presents Christine with a gift to thank and acknowledge her wonderful contribution to Kaipara Medical Centre. Christine enjoyed a farewell dinner at the Beekeepers Wife in Riverhead, with her whānau and previous owners and staff of Kaipara Medical Centre.
Staff and patients will miss nurse Christine who has been a valued member of the Kaipara Medical Centre for the past 33 years. 
Barbara McKenzie, Kaipara's Nurse Manager said, "Christine has been a very special and valuable member of our Kaipara Medical Centre work family. She has an outstanding wealth of knowledge, a gentle and caring rapport with patients, incredible work ethics and a true passion for her profession. It has been an honour and a privilege to have been able to work with Christine over so many years. I wish to thank her for her years of service to Kaipara Medical and the Helensville community and wish her the very best in her retirement." 
Dr Phil Barter added, "Christine has been a foundation stone for Kaipara medical centre, and a reassuring and treasured presence on the team, both as a colleague and friend. Her wisdom and knowledge have been vital over the years, both for her patients and the staff here."
The team at Kaipara would like to wish Christine well with her retirement.