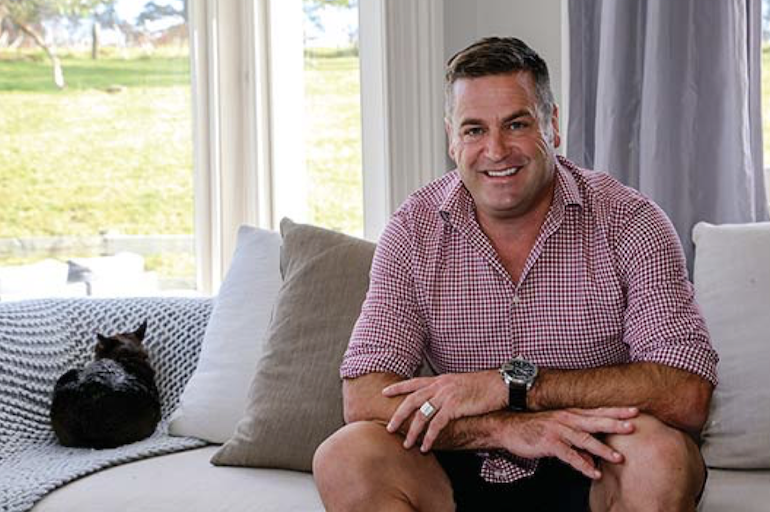 Dr Vaughan Lock, with Charlie, one of his two Burmese cats. 
New Helensville doctor Vaughan Lock made a major change to his life that few people would consider. 
After graduating from Waikato University with a law degree, he practiced law in Auckland and Sydney before deciding it wasn't his passion - and so gave the profession away to study medicine.

Since graduating he has worked predominantly in hospitals in Auckland, although he spent two years as a General Practitioner in various places around the city, including Remuera, Grey Lynn, Herne Bay and Howick.

He says while he loves the work and excitement of hospitals working in acute medicine, he really prefers the more problem-solving aspect of general medicine.
So why Helensville? Vaughan was raised on a dairy farm at Galatea, south of Kawerau, and both he and partner Tim, an Auckland lawyer, planned to retire somewhere rural. Then they decided to make the move now, before they got too old to enjoy the rural lifestyle.
So in January they purchased a beautiful old villa on two hectares at Kumeu, and Vaughan gave his name to a recruitment agency, telling them he was in no hurry to change jobs and needed the perfect fit. Within a couple of days he was told about a vacancy at Kaipara Medical Centre and it was just that - the perfect fit.

He has already spent a couple of mornings sitting in with Dr Phill Barter, and says he is really looking forward to seeing a much wider range of patients than is typical in a hospital environment, where most patients are older.

"I love the idea of new challenges," he says, "and am really looking forward to being part of a small group of similar minded people."

Vaughan is a keen runner, and enjoys mountain biking, skiing and travel, and is a self-confessed wine buff - so his new Kumeu location is perfect.

Vaughan starts at Kaipara Medical Centre on Wednesday, May 29.

As featured in the May 2019 issue of Helensville News.